Regardless where you are coming from, Napoli, Pozzuoli or Ischia, your ferry or hydrofoil will be arriving at the Marina Grande in Procida, the main hub of the island. During our 10-day stay we returned to the marina several times as we really enjoyed the atmosphere and loved walking on the promenade.
This tiny island in the Tyrrhenian sea has a strong maritime heritage. Its history is mainly about ships, sailing and fishing, for centuries it was an important seafaring island. As Procida has a strategic position very close to the mainland with 5 bays, it was already a crossroad of sea trade routes around the 16th century B.C. Later Procidans became very good at building ships and they were also talented at navigating them on faraway seas. They often worked for foreign navies, they were very popular on the "job market" of the sea. North African corsairs often captured them, as they were considered valuable. Even today, you can find Procidani in harbours all over the world.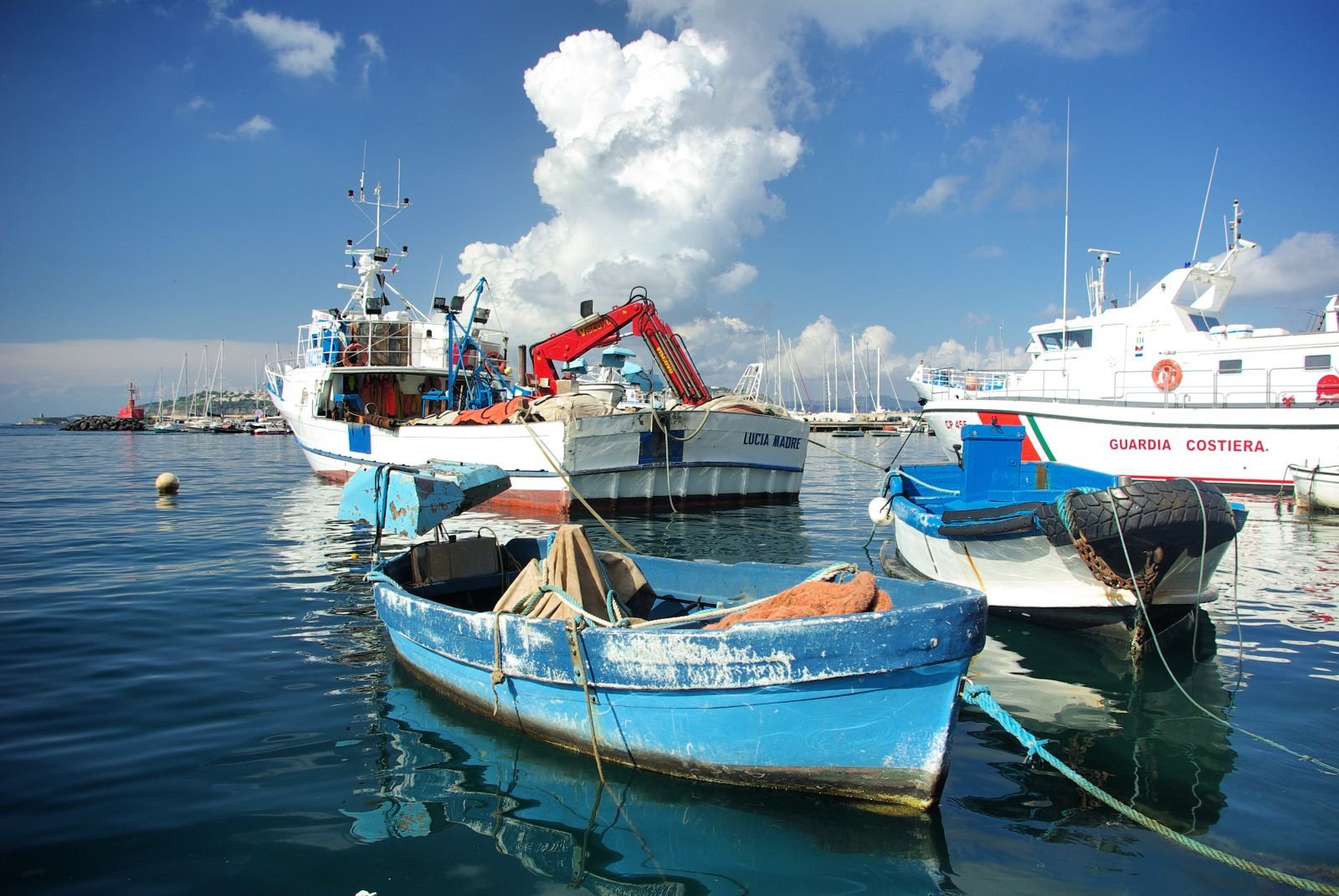 It has never been an easy life. Although the men were able to financially support their families, they were not part of daily life. They were often away for years, and when they returned, their small children didn't even recognise them. The mamma was always the heart of family life, surrounded by grandmothers and aunts.
By now the harbour has lost its original importance, mainly ferries, fishing boats and recreational boats: motorboats, yachts and sailboats use it.
There are appr. 500 moorings, more than in neighbouring Ischia and Capri in total. Some of them, right by the promenade, were left for the traditional fishing boats of local men. I love so much these little boats with their chipped paint.
Along the sea, there is a long row of pastel coloured houses, closely built together. The buildings were painted using these bright colours so the sailors and fishermen out at the sea could see them well from a distance.
When we first arrived with the ferry from Naples and I saw these houses in the nice afternoon light, together with the hustle and bustle of the harbour, I knew I had picked the right destination. It's such a photogenic place and so full of south italian life. In the row of houses you can also find the Istituto Nautico, dating back to the 18th century. Teachers of the oldest nautical school in Europe have been training excellent officers and crew members, working on ships worldwide.
Along the sea runs Via Roma, a lively street full of bars, shops and restaurants. It's nothing like in Capri, don't expect international design brands, you'll find cute local stores instead.
Procida is popular with artists, we visited a shop selling paintings and had a fun conversation with the painter. I also loved the book store, it has a good selection of books related to Procida as well. In one of the little artigian shops I also chose a beautiful ceramic bowl, a new item in my international ceramic bowl collection at home. I could have bought some truly beautiful dresses as well, but having hand luggage only stopped me from doing that.
Walking down Via Roma you'll get to the square of Marina Grande, which is a popular place for open air events. Don't forget to admire the oleander trees. By the piazza you can also visit the Church of Santa Maria della Pieta, which was built in the 18th century.
It's worth visiting the marina in different times of the day. I think morning life is just great here, with locals having their quick espresso, elderly gentlemen reading "Il Mattino" on the terrace of the seaside bar, nonnas getting fresh buffalo mozzarella for lunch, commuters waiting for the ferry to go to work to Naples. We love having breakfast in a bar, caffé latte with brioche, while watching local life happen. Boats are also arriving in the morning, bringing different items to the shops from the mainland.
Then in the afternoon, around 3 pm, fishing boats arrive and they unload the fresh catch. You can buy absolutely fresh fish and seafood in the shops at the bottom of the houses, which only open for a few hours every day. Local ladies come and pick up clams and shrimps for their family dinner. What they cannot sell goes to the fish market in Naples.
In the evening, it's nice to return for an aperitivo, dinner and some night life, although being here with a small child I don't have personal experience about the latter one.
We were having breakfast in a bar in Marina Grande when I noticed this sign. One part pointing at the bar, the other part pointing at the mainland and Naples. I guess they meant it to be a joke, but who knows? One thing is sure, every local person I talked to told me the same thing: they love living in Procida, they live well, it's safe, it's a great place for kids and they wouldn't move anywhere else. Of course there are also people who go away from the island to study or for work, but in the end many of them return to their beloved island.