As an advocate of slow travel, I always recommend staying longer in one place and making sure the amount you spend on accommodation stays with the local community. In Procida this is quite easy, as most hotels and apartments are owned and run by local people. Although you can find wonderful hotels and B&Bs on the island, and I am happy to book them for you, on this page I am offering apartments where you can really live like a local with that cute old lady or the bearded fisherman next door. You can buy the fresh catch from the fish vendors in Marina Grande and prepare it in your own kitchen, pick up a lingua and enjoy it in the morning on your terrace with amazing seaview. Procida is also a perfect destination for a working holiday. If you are a digital nomad or just enjoying the advantages of home office, why not rent an apartment in Procida with good wifi and work from there, while enjoying Italian island life.
Please note that the apartments listed on this page are just some examples, as I can offer you a wide range of apartments for rent. If you are looking for accommodation in Procida, please send me an e-mail, let me know the dates, the number of people travelling and your approximate budget, then I will check availability and send you an offer with all the details and photos. You can contact me at info@italy-slowtravel.com.
Below I am showing you rentals from different parts of Procida, like Corricella, Marina Grande, the center of the island or the Solchiaro area.
Private mediterranean villa by the sea
I love Italian cinema. After watching movies like Bertolucci's Stealing beauty or the romantic drama Call me by your name directed by Luca Guadagnino, many of us are dreaming of the ultimate Italian vacation in a villa with family and friends. Who wouldn't like to enjoy summer romance, fun, swimming, books and long dinners somewhere among the Tuscan hills, in the Puglian countryside, or even better, right by the sea. This Procidan villa is just perfect! With its white walls, beautiful azure tiles, lush garden and private access to the sea it's everything I've been dreaming of. The villa is up to 10 people with 5 rooms and 4 bathrooms, and has plenty of space to enjoy big dinners together as well as quiet private moments. From the mediterranean garden a path takes you down to the sea where you can jump into the crystal clear water from your own private rock.
Price starts at 400 EUR/villa/night.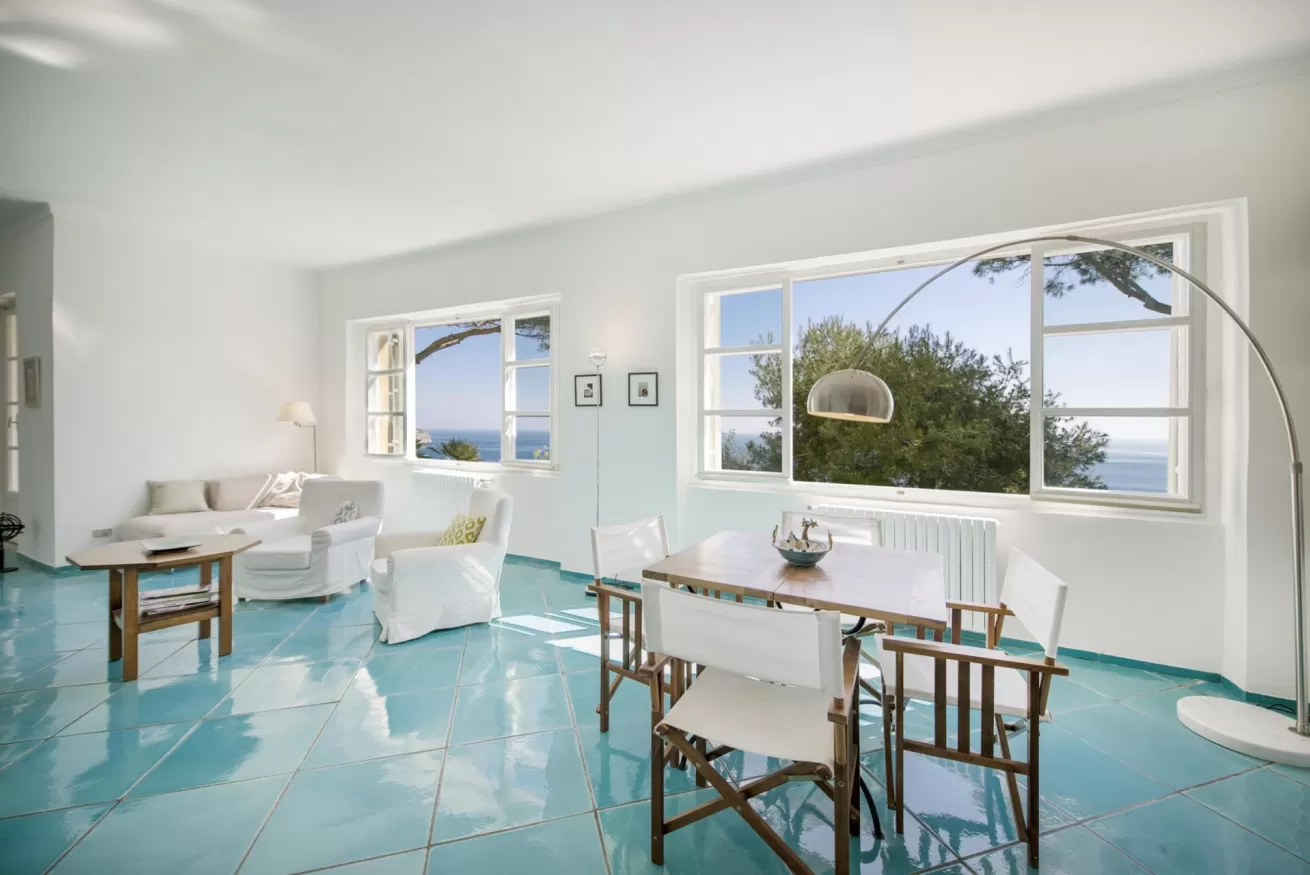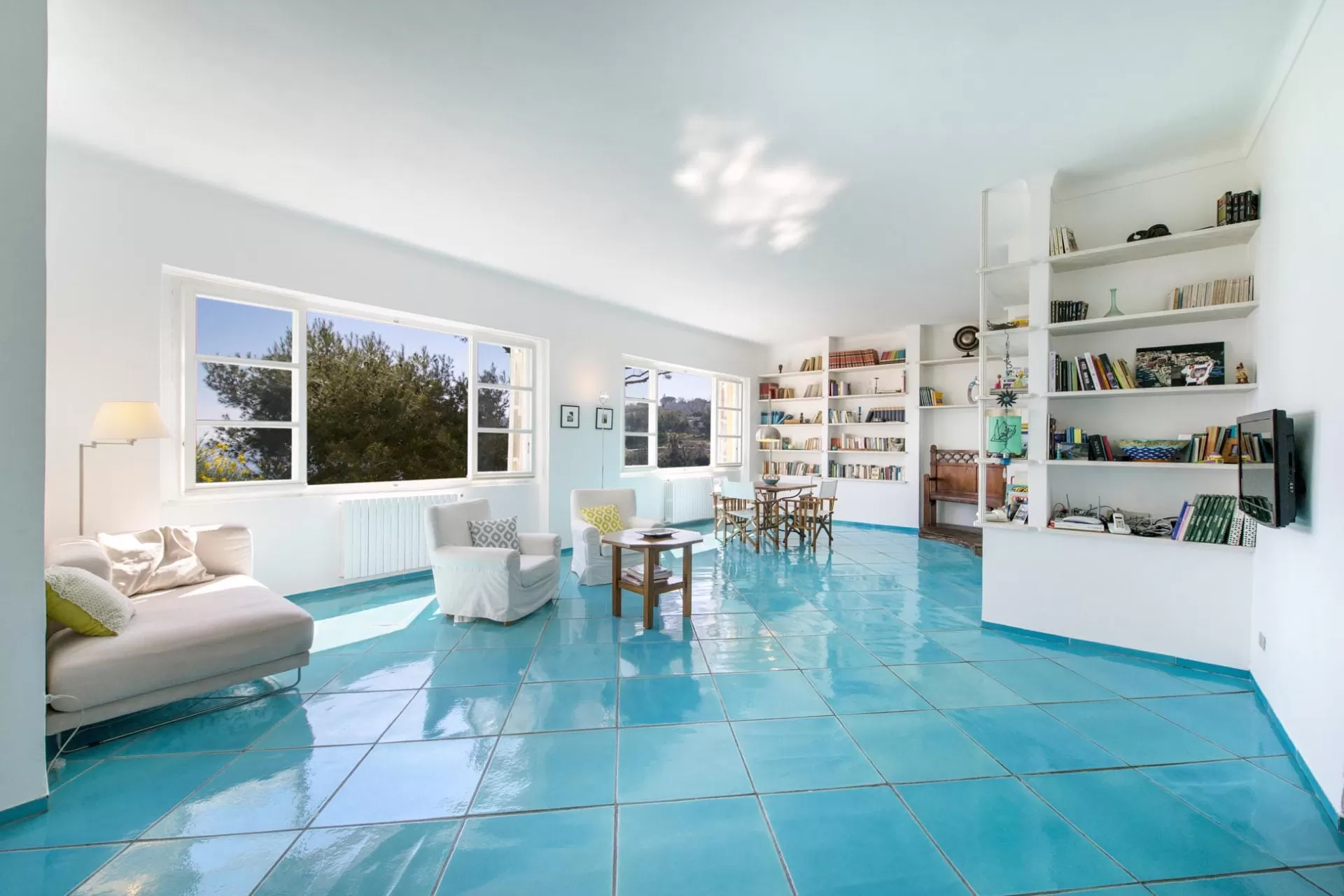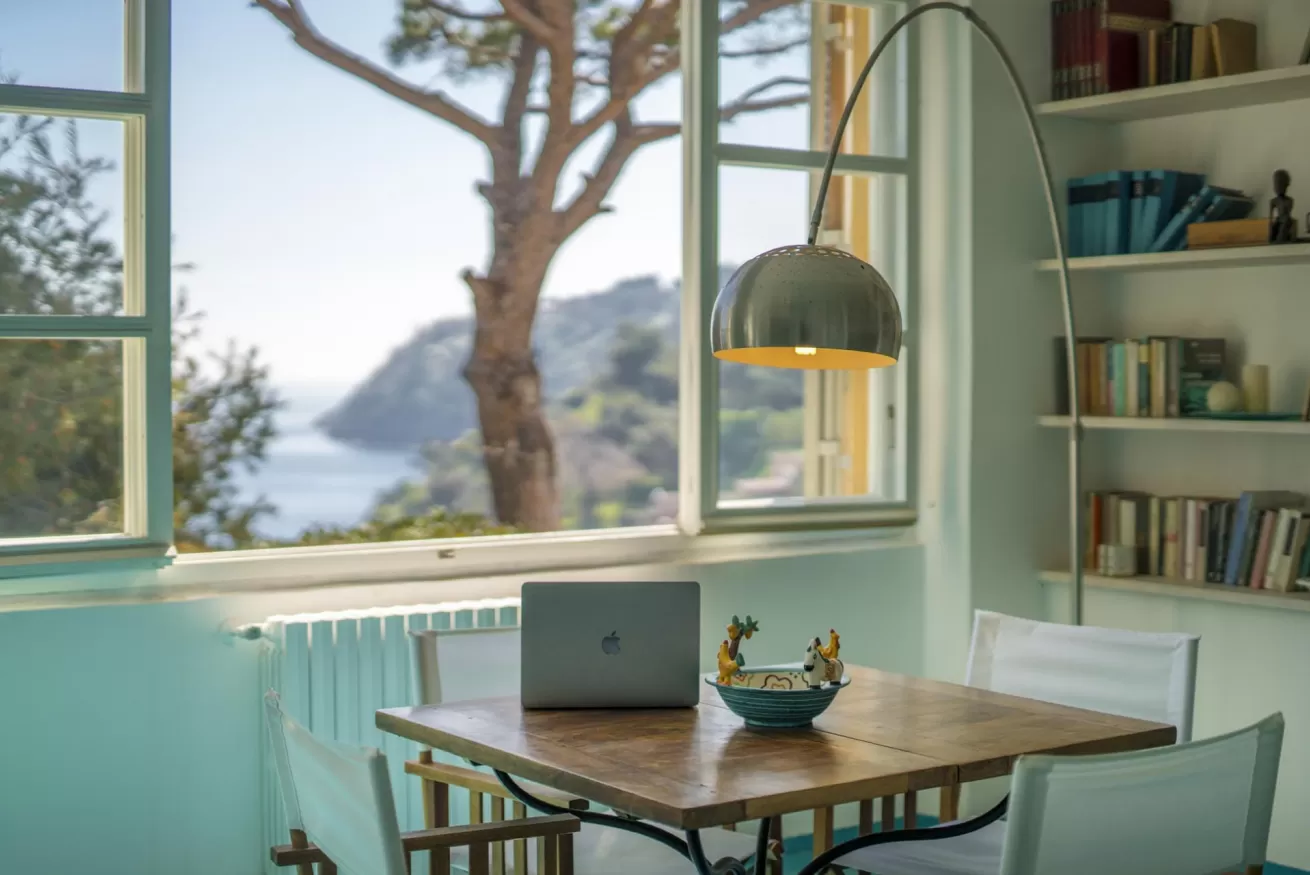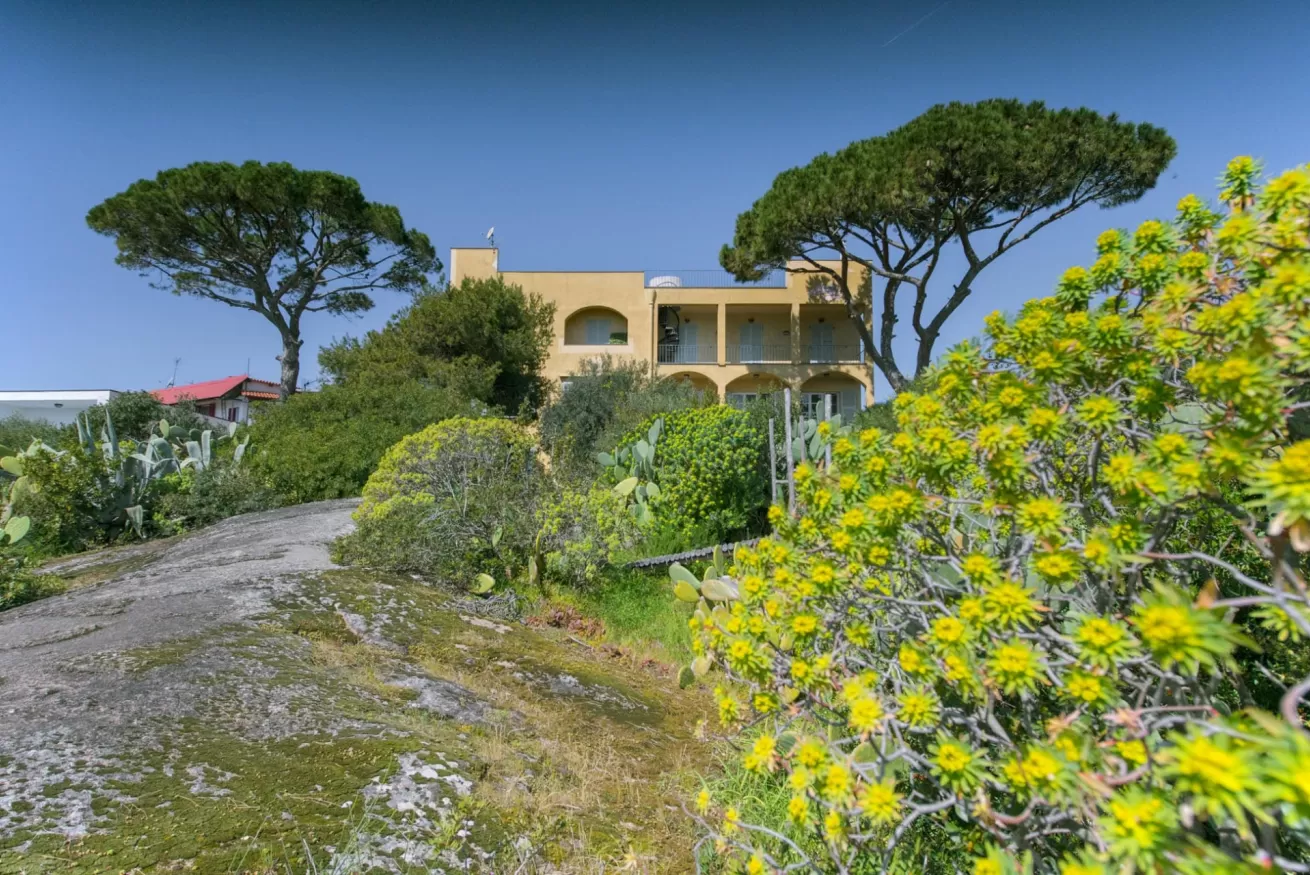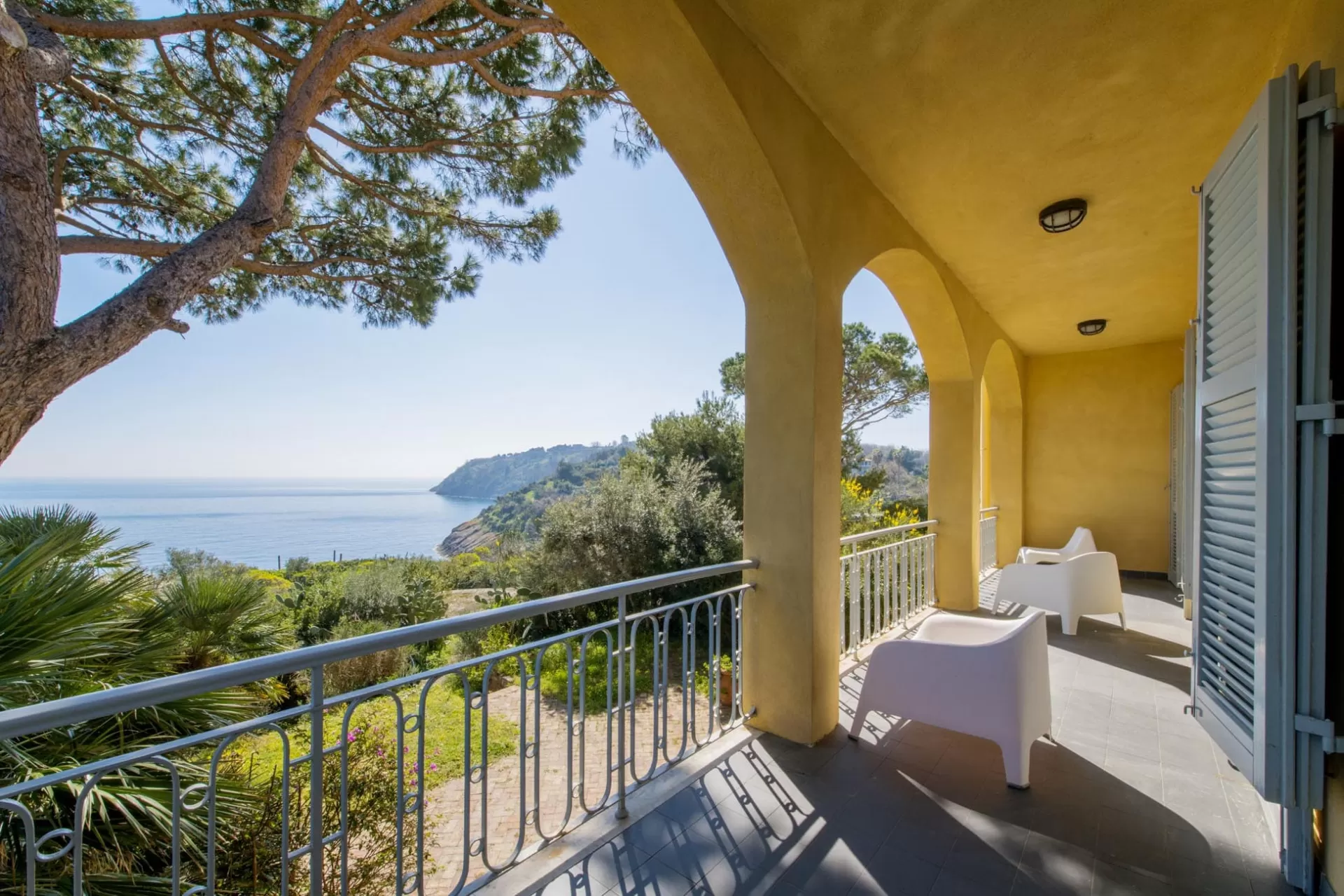 Exclusive loft with the best views of Corricella
How about enjoying one of the most stunning views in Italy from every corner of your apartment, while sipping your morning coffee on your terrace, cooking dinner or even brushing your teeth? This loft is right in the heart of Corricella, the colourful fishing village, the most beautiful part of Procida. The apartment has 2 rooms and 2 bathrooms, so really comfortable for a couple or a family as well. As soon as you step out your door, you can enjoy a nice stroll among the colourful fishing boats and fishing nets, choose from several authentic restaurants and stop by some artisan shops. There is also a bus stop nearby to get to the other parts of the island, but of course the best is to just walk everywhere. There is only one problem with this apartment: the views are so incredible you might not want to walk out your door.
Price starts at 120 EUR/apartment/night.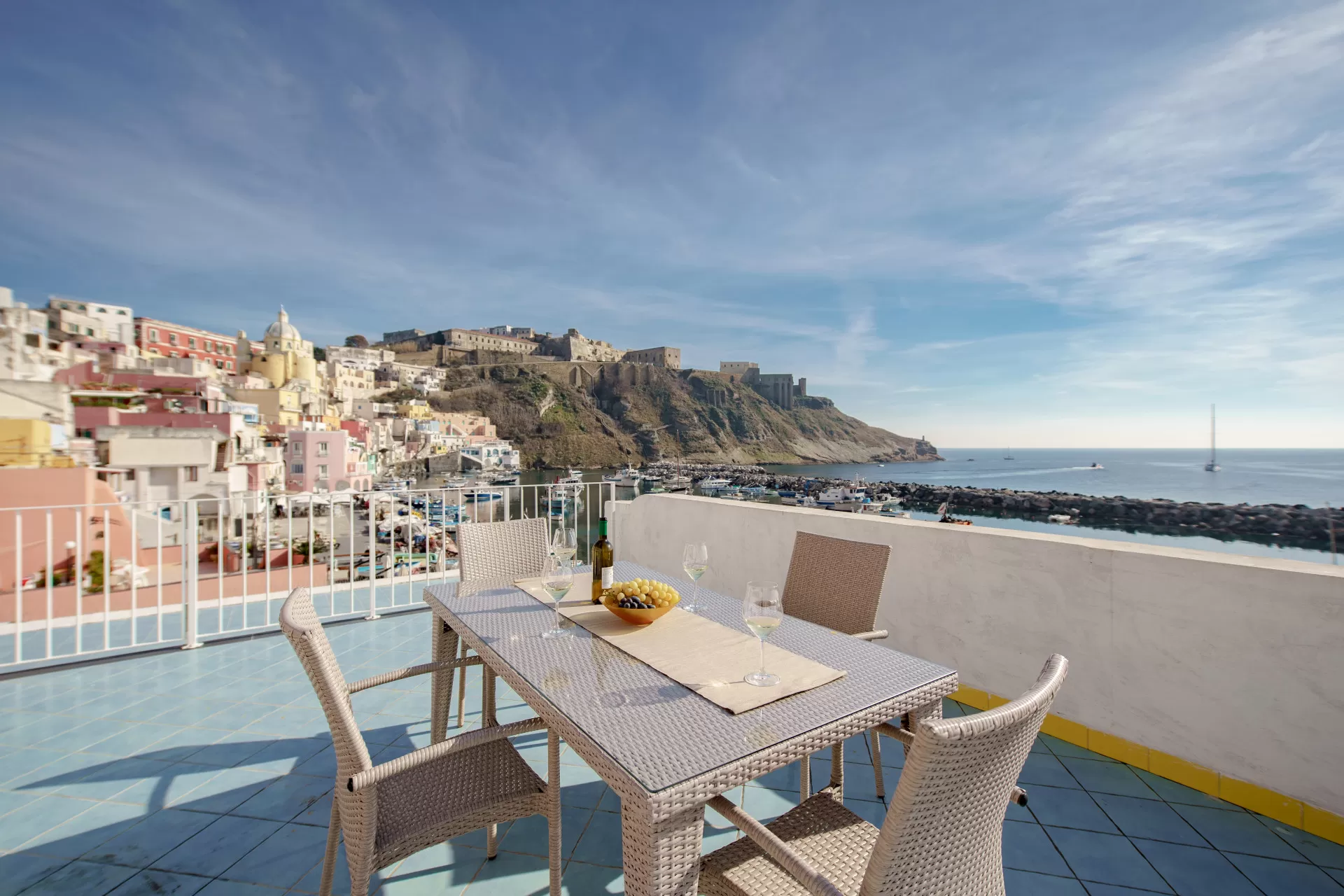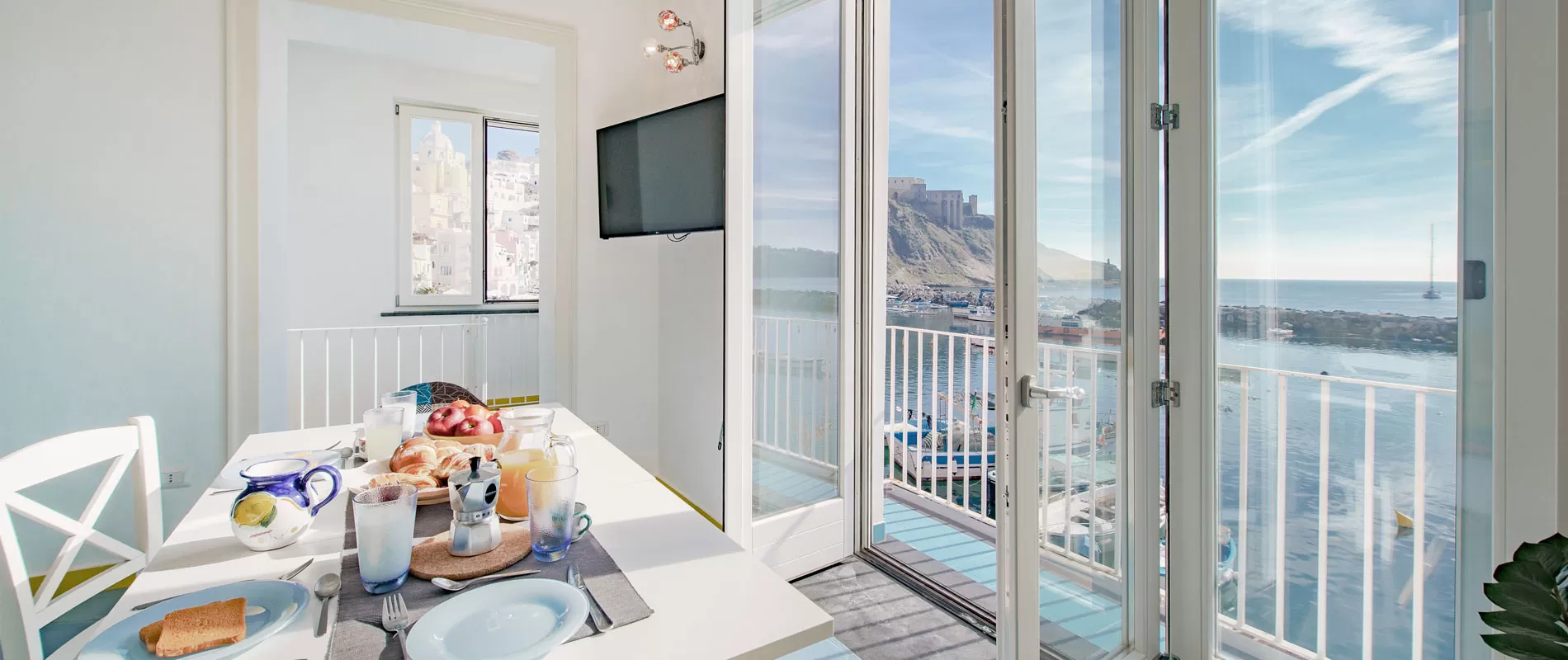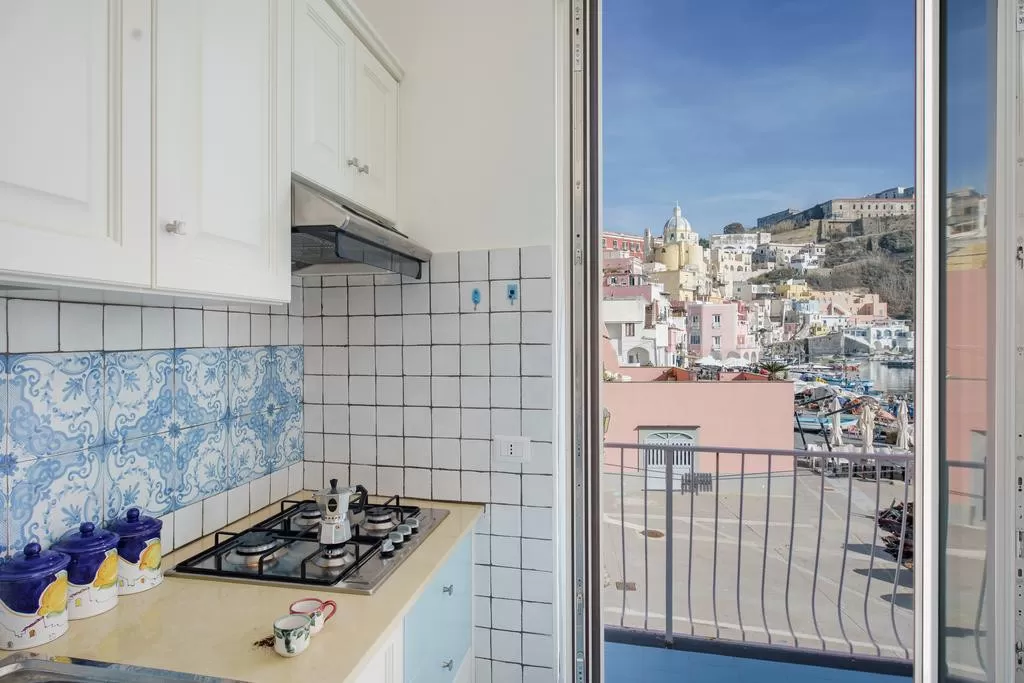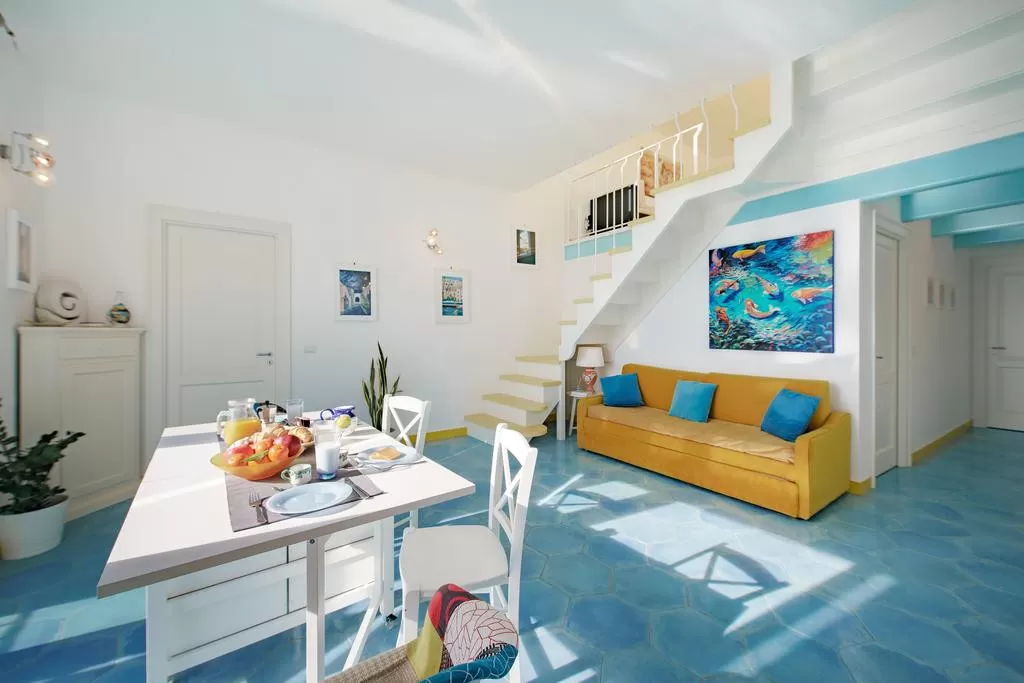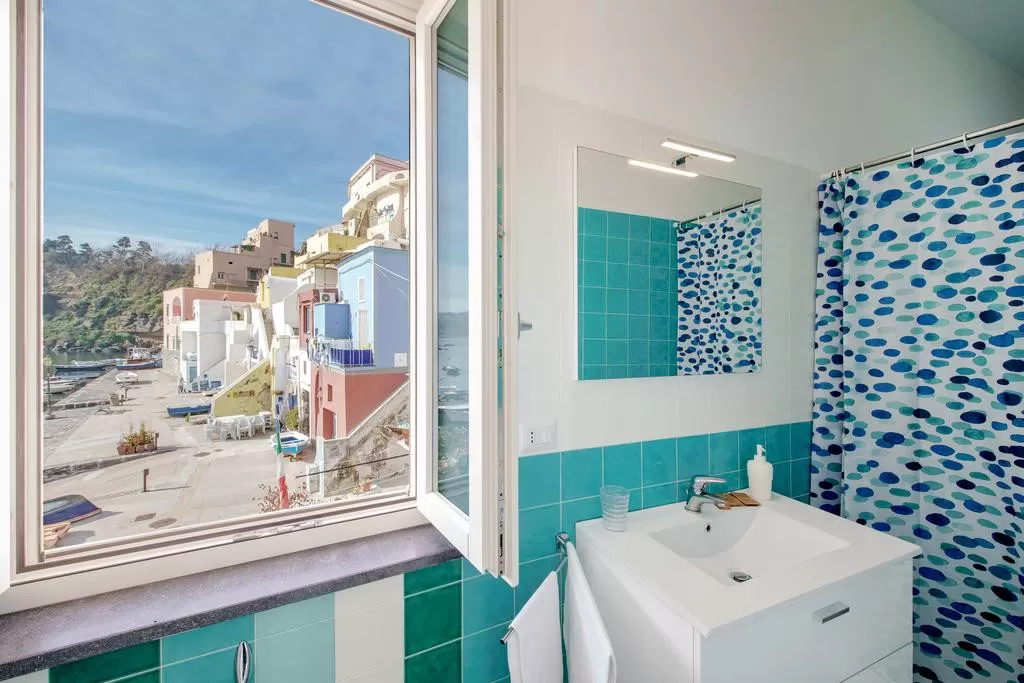 Apartment in the heart of Marina Grande
This apartment is located in a house of fishermen, in Marina Grande, the busiest part of Procida. If you love having several bars, restaurants and shops just a few steps from your home, this is the place for you. Just walk 2 minutes and you can watch fishermen unload the fresh catch from their boats. Enjoy your breakfast in one of the local bars while watching boats come and go. Hop on the small bus and discover the other parts of the island. And why not base yourself in Procida for exploring the surrounding area? Ferries come and go all day long in Marina Grande, so you can quickly get to the island of Ischia. You could also take the morning ferry to Naples together with the local people going to work, and discover the most passionate city of Italy with so much art and culture, as well as the best pizza on earth. This minimalist apartment is perfect for 2 people or a family with 2 children.
Price starts at 100 EUR/apartment/night.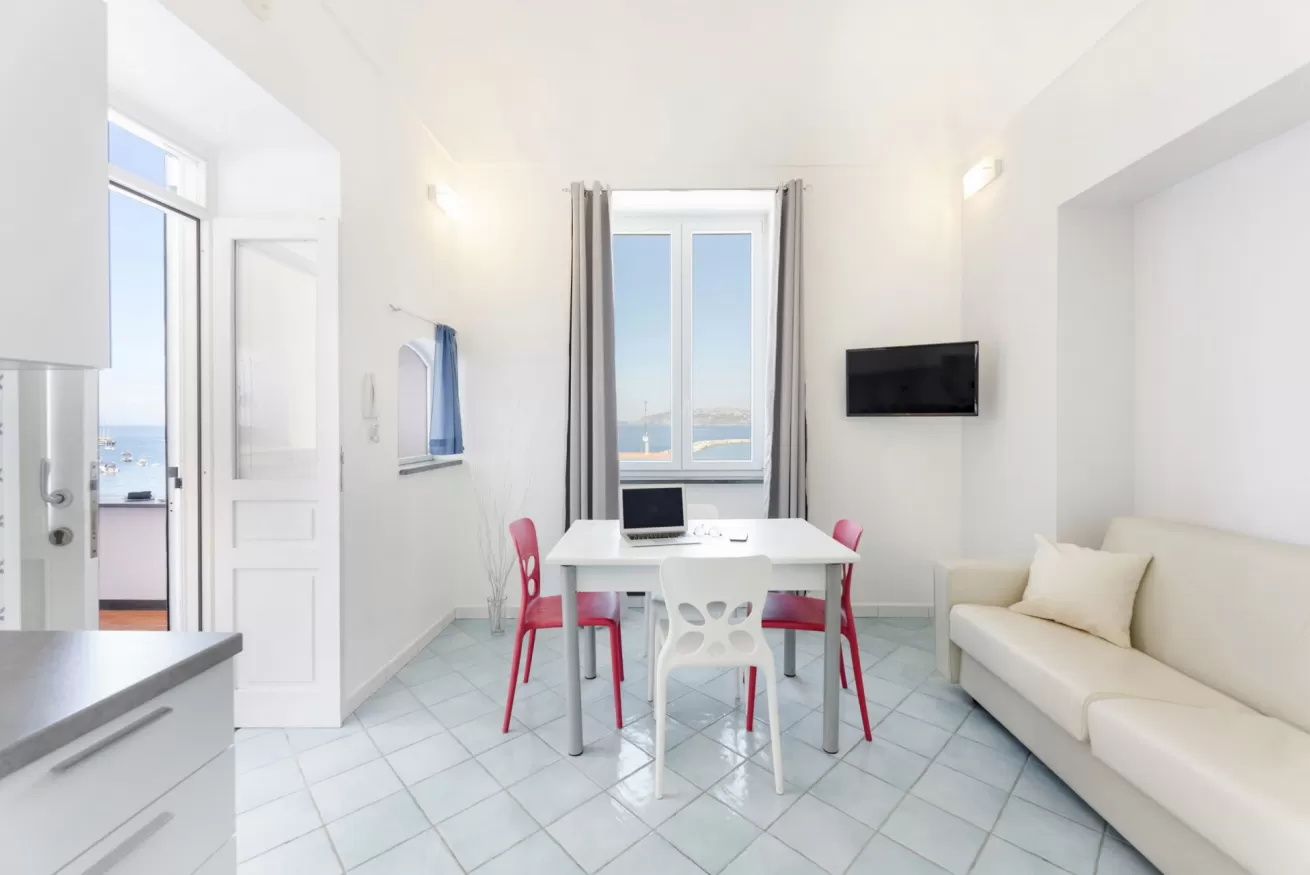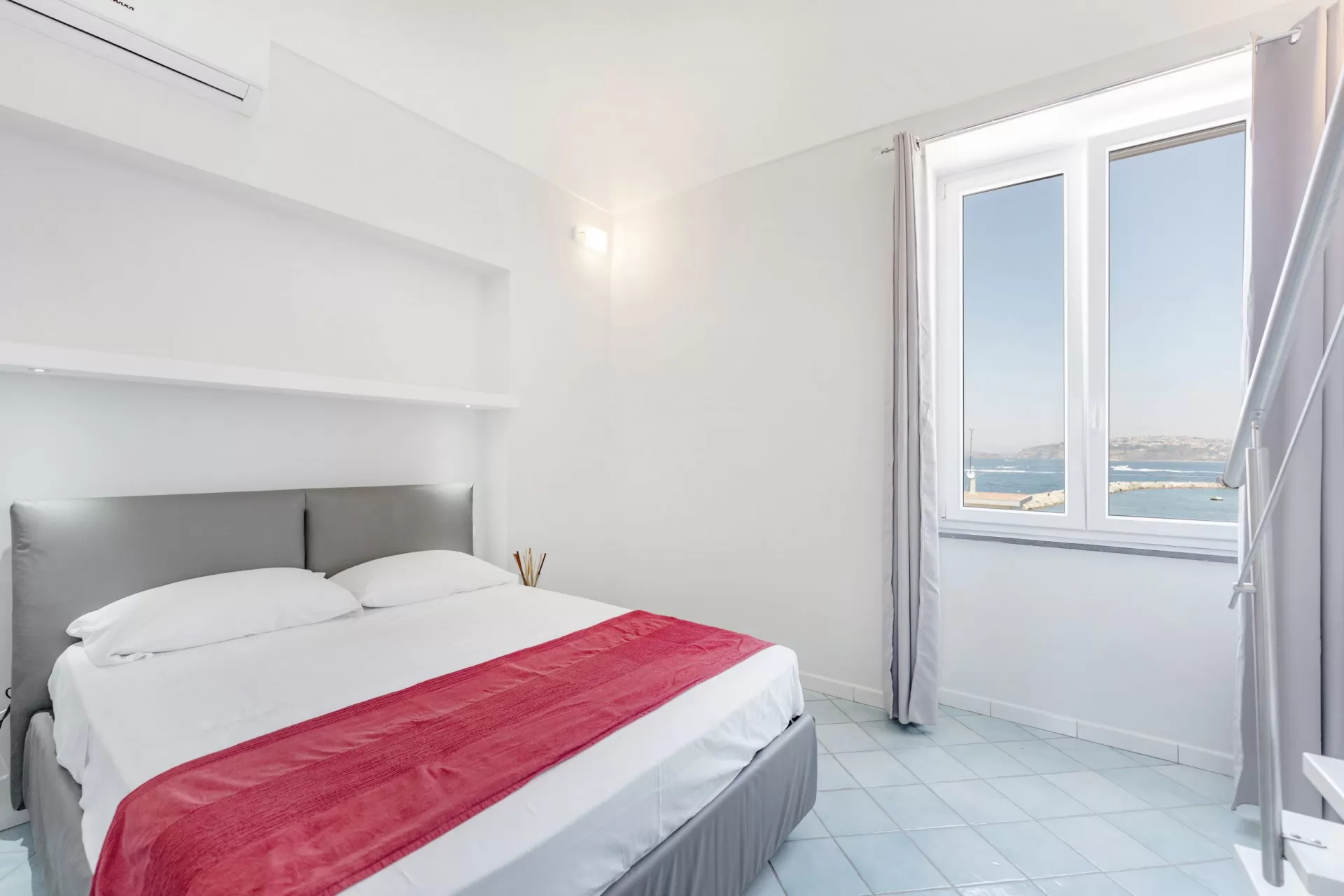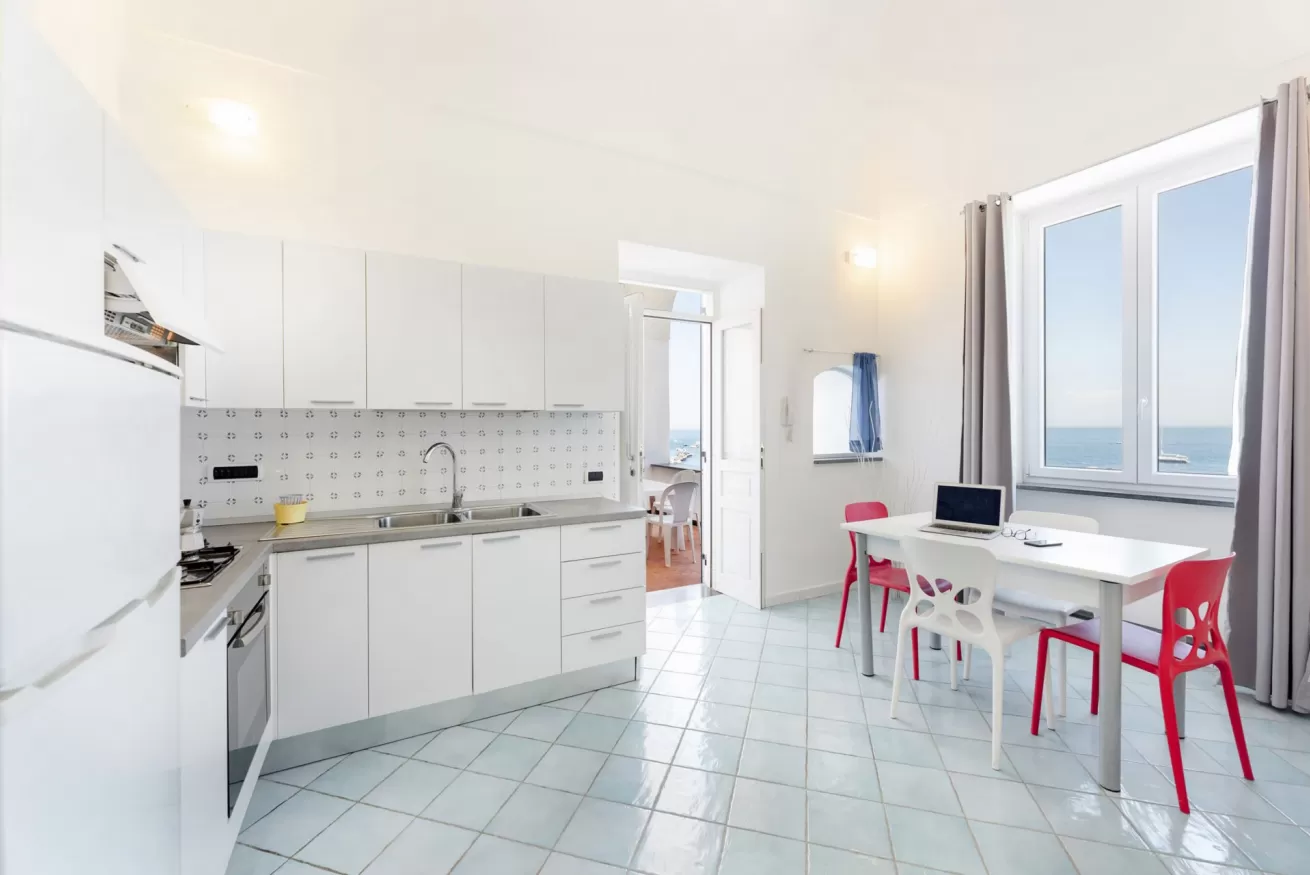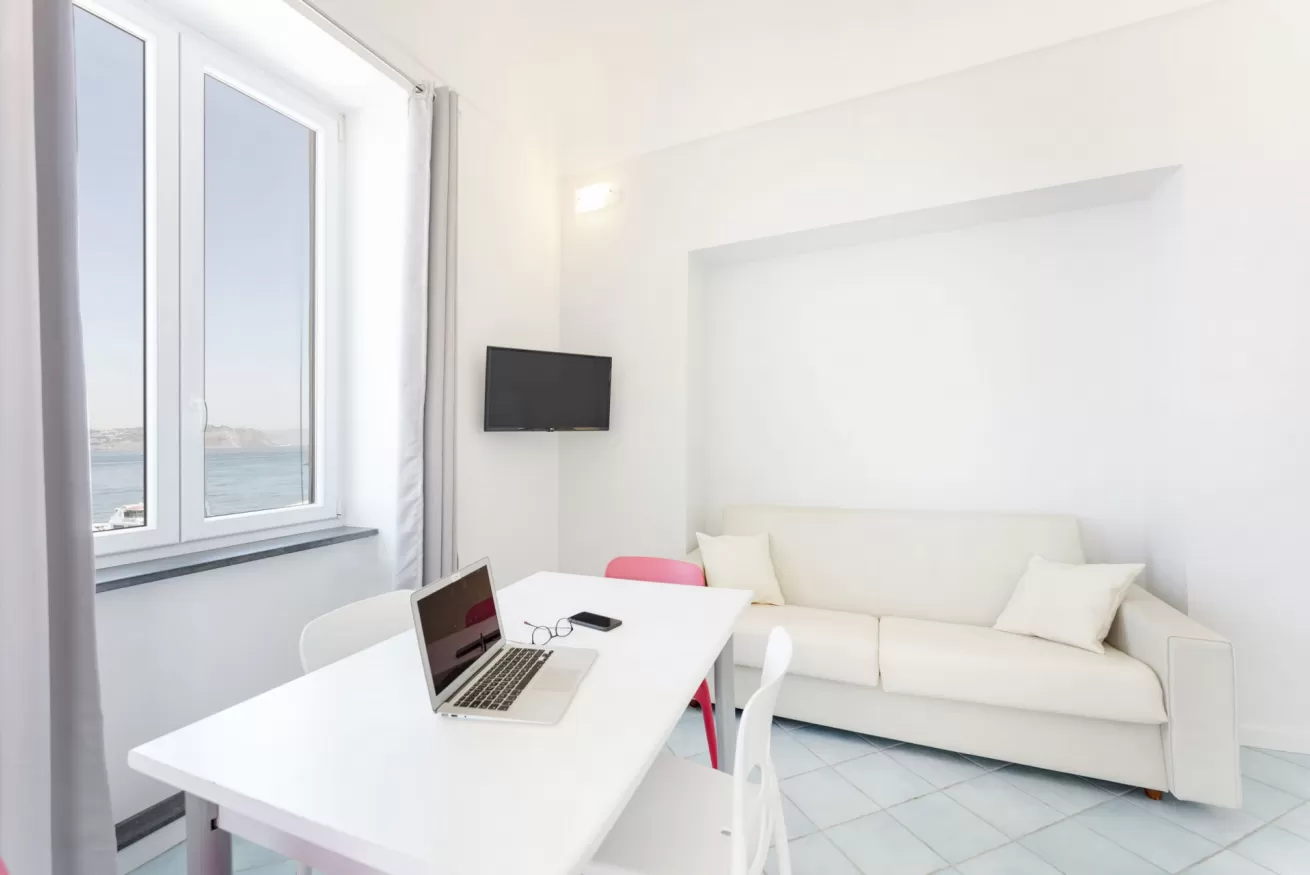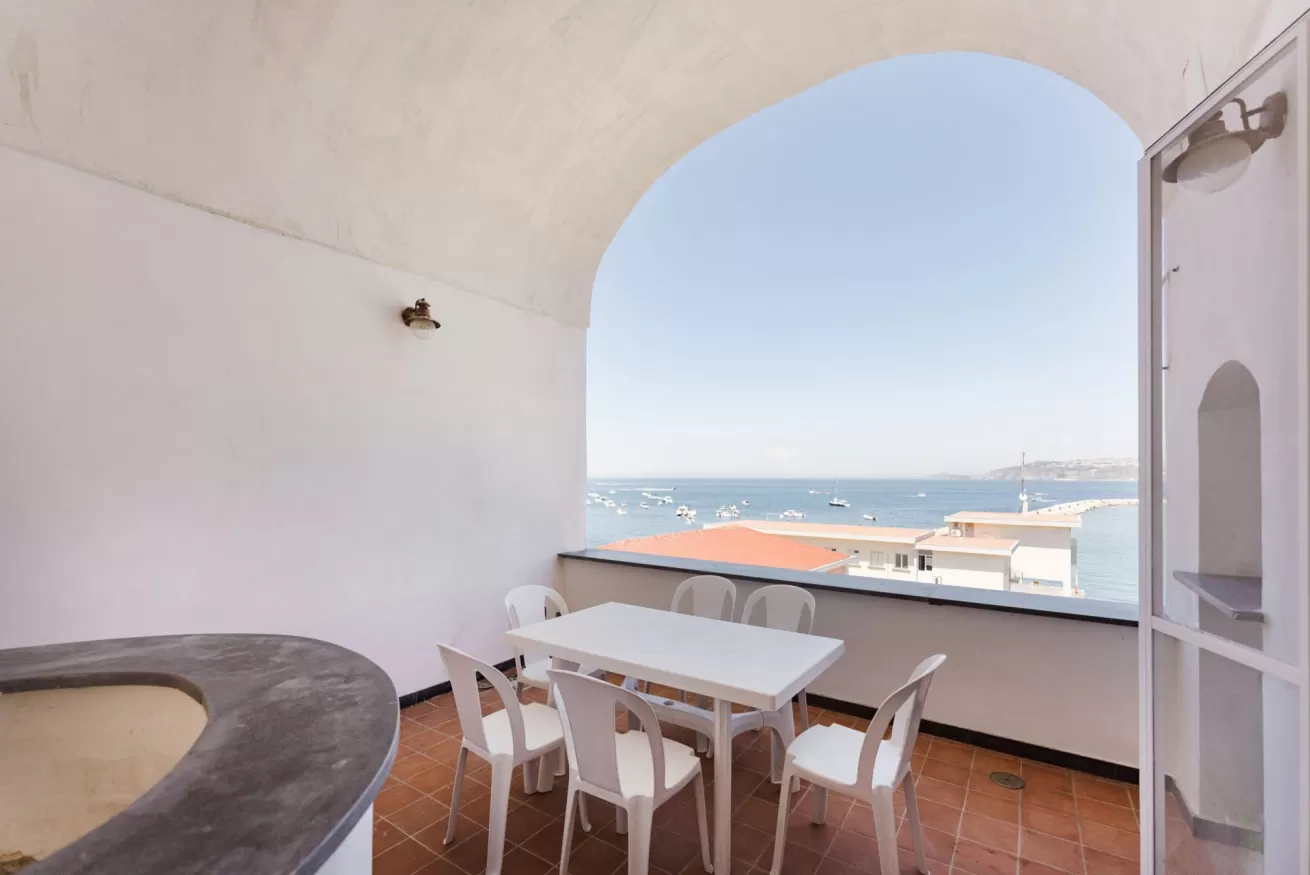 Studio apartment in the center of Procida
We stayed in this small apartment and loved it! It can be found right in the center of the island, close to the protected Chiaia beach, perfect for children as well. With a short walk we could also reach several bus stops and our favourite food shop at the corner. The studio is perfect for 2 people and an ideal home office solution with a comfortable table, good internet connection and an affordable price. I was actually working from the balcony in the evenings with the lights of Ischia in a distance. The studio is located in a house with several apartments of different sizes available for rent. There is also a really cool roof terrace with the best views and a shared kitchen and BBQ. This is also a great place to meet other travellers staying in the house, so you won't feel alone even if you are travelling solo. Of course in Procida you won't feel alone anyway, as locals are really friendly, I had great conversations with them wherever we went. The island is also very safe, so perfect for woman solo travellers as well.
Price starts at 60 EUR/apartment/night.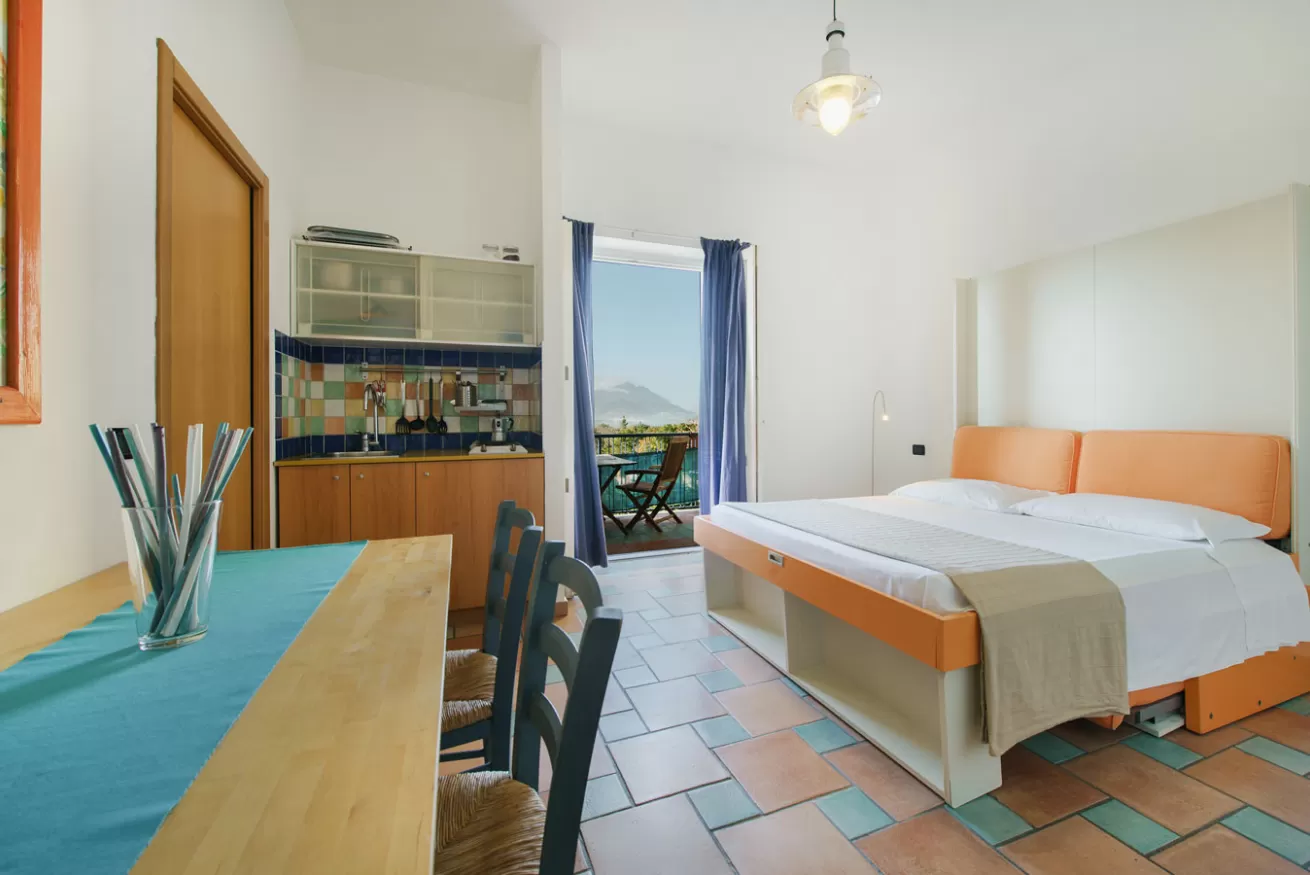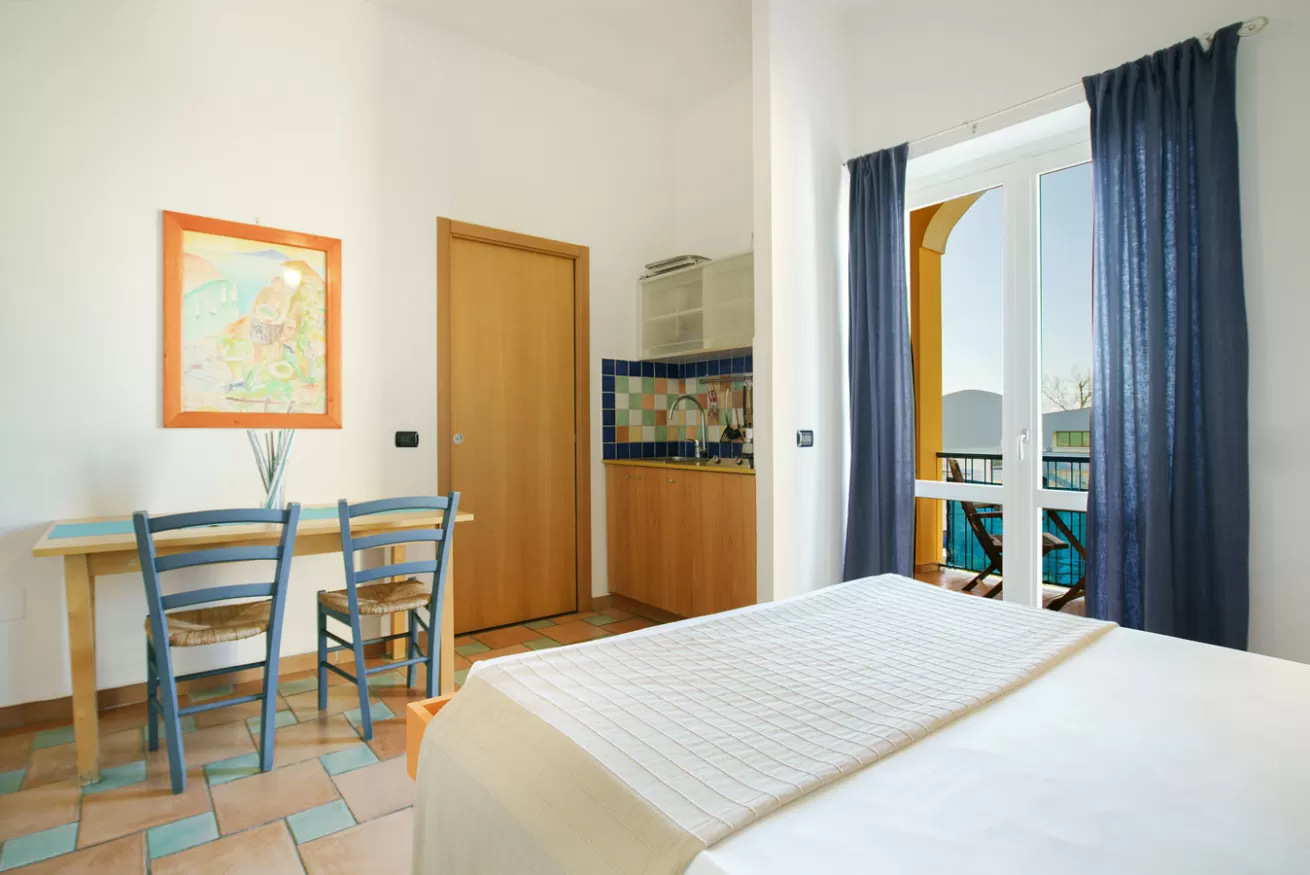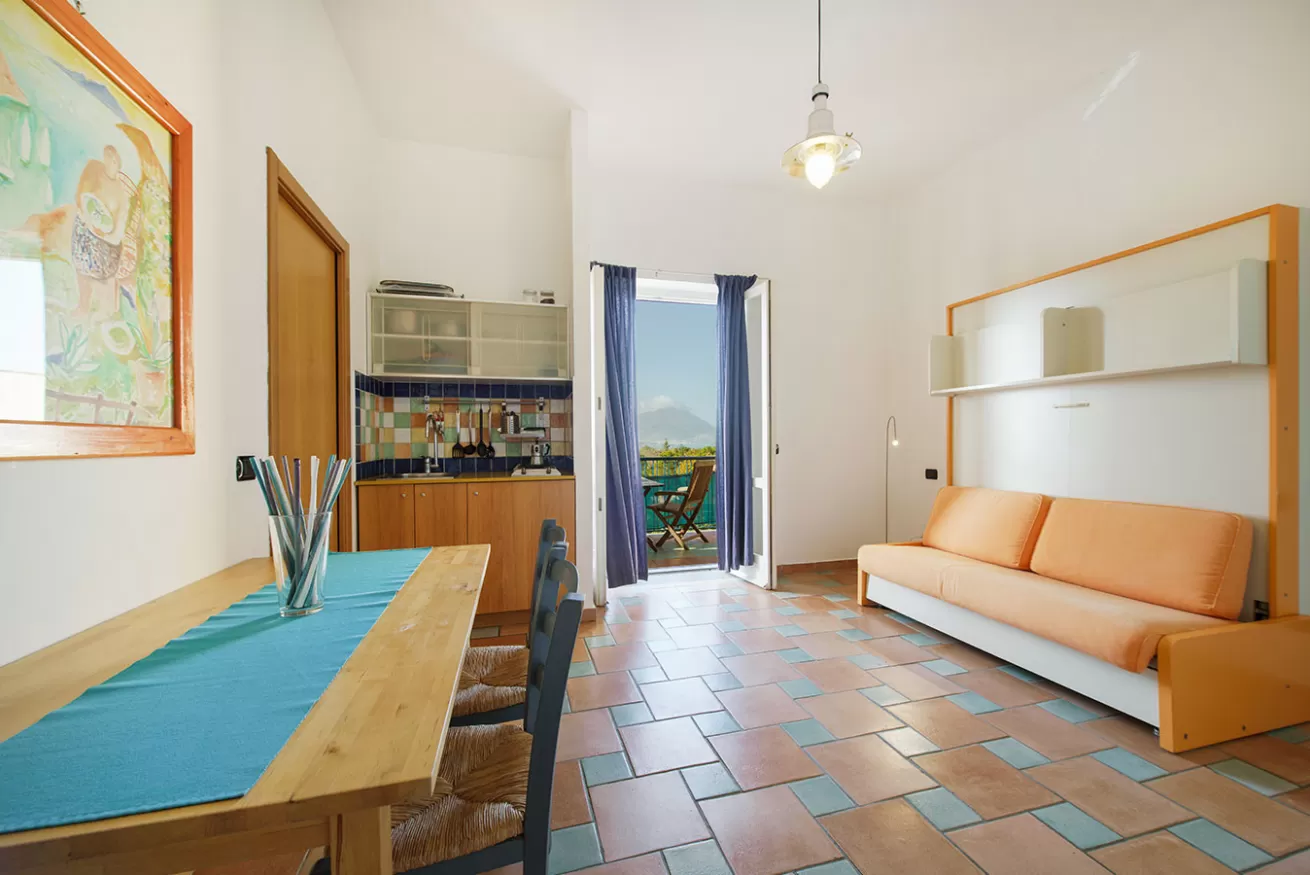 Family apartment in the center of the island
This apartment house is located in a great central area, close to the bus stop and to the staircase taking you down to Chiaia beach, perfect for kids with its warm and shallow water. It's an ideal solution for a family with 2 children. The apartment has 2 rooms, 2 bathrooms and a private patio. You can also access the common sun terrace with a kitchen and grill area, where you can have your dinner with a glass of wine enjoying the panoramic views.
Price starts at 100 EUR/apartment/night.